Sud di Baladin has been created to thank the lands of southern Italy, the source of amazing ingredients.
100% Italian, its scents and tastes take those who drink it on a symbolic journey from north to south, across the Mediterranean.
When he created it, Teo thought back of his visits to these lands full of colors, warmth, sun and a welcoming atmosphere.
Water from the Maritime Alps is mixed with malt made with barley grown in Basilicata, citrus fruits (lemon, orange, tangerine and bergamot) from Sicily, Calabria, Campania and Puglia, as well as wheat, hops and yeast from Piedmont.
It has an amazing freshness, thanks to the light body which makes it easy to drink, and the rich aromas.
Perfect as an aperitif, it goes well with white meat, grilled fish or dishes made with citrus fruits, such as lemon risotto.
Sud di Baladin supports the Italian agricultural sector.
The Baladin farmer brewery has always supported the use of Italian ingredients and actively participates in the work of Consorzio Birra Italiana, created to promote Italian agricultural products for craft brewers.
To know more Consorzio Birra Italiana is founded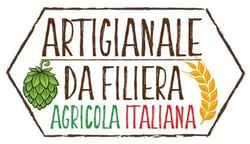 A logo on the can shows that this is a craft beer made with Italian agricultural products.