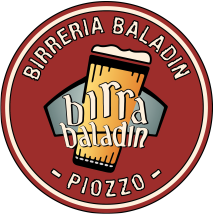 Birreria Le Baladin - Piozzo
We are working to make you a big and super surprise.
Save the date on your calendar: 1st OCTOBER 6 pm ... Details will follow.
Ladies and gentlemen, come on in! Seen from the outside, Le Baladin pub looks like any other pub: decorated walls and a few tables for its guests. But once they venture inside, visitors open their eyes in disbelief as they take in the sight of a large tensile structure that looks like a circus tent. This is where the Birrificio Baladin adventure began. The first floor hosts the gallery of freaks, with representations of acrobats and tarots hanging on the walls.
Of course, the pub serves a large selection of Baladin beers on tap, the full range of our bottled beers, cider, distillates and barley wines.
Good beer goes with good food. Le Baladin serves burgers, the legendary pork shank, salads, focaccia and many other flavorsome dishes to be enjoyed in a wonderful setting,
maybe one of the many nights when the pub hosts a concert.