Baladin is launching a bottled IPA? Yes, but it does it its way.
L'IPPA was presented in its keg version at the beginning of the year. Now comes the 33 cl bottle.
A 100% Italian IPA made with ingredients grown directly by the Baladin network of agricultural producers.
The 4 hops in the recipe are grown in Piedmont. The soil composition gives unique nuances to the aromas of our Cascade, Chinook, Comet and Magnum.
L'IPPA has a beautiful amber color, and its scents are dominated by notes of citrus and exotic fruits. When sipped, it shows a perfect balance of tastes inspired by English IPAs, yet with a Baladin touch that comes from the brewery's own yeast. The bitterness is pleasant and leaves a clean mouth and a sense of satisfaction.
How can it be paired? Find out from the L'IPPA full description.
L'IPPA is part of the From the Earth to the Glass project to promote Italian craft products and support Italian agriculture.
Baladin actively participates in the activities of Consorzio Birra Italiana, created to promote Italian agricultural products for craft brewers.
To know more Consorzio Birra Italiana is founded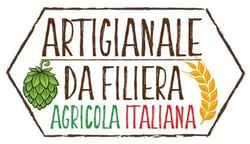 A logo on the collar shows that this is a craft beer made with Italian agricultural products.