The friendship between Baladin and Land Rover started with the launch of Evoque, when a special edition dedicated to Teo's craft beer was created.
The journey continues with an even more exciting initiative and an exceptional vehicle that has just arrived in Italy and that we have nicknamed Defender Baladin.
Of course we are talking about the Land Rover Defender Hard Top, that we have fitted outside and inside to take our canned beer on the road!
The sides of the vehicle have been transformed into a blackboard where we can write messages to talk about our canned beers. The chalk writings and drawings perfectly express our philosophy. The "From the Earth to the Glass" can emerges from a green meadow.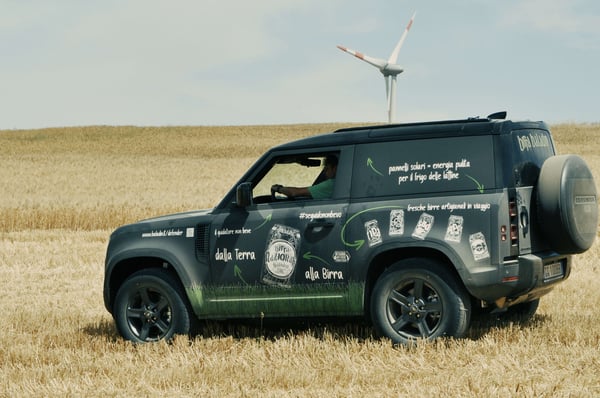 The traveling beer is kept cool in two refrigerators powered by a solar panel located on the roof.
One side of the vehicle tells the green nature of the can, which stands as a symbol of environmental care. Aluminum can be recycled infinitely and on our Defender Baladin - which, by the way, has an aluminum monocoque frame - we have installed a can crusher to remind our consumers how they should recycle cans properly. Under the motto "Open me and drink me, reuse me or recycle me infinitely" we show how our easy-open end cans can become a cup or, once empty, an interesting container.
In our journey with Baladin Defender, the focus is on the hashtag #SeGuidoNonBevo (meaning I'm not drinking if I'm driving), to highlight that you should never get behind the wheel unless you are completely sober.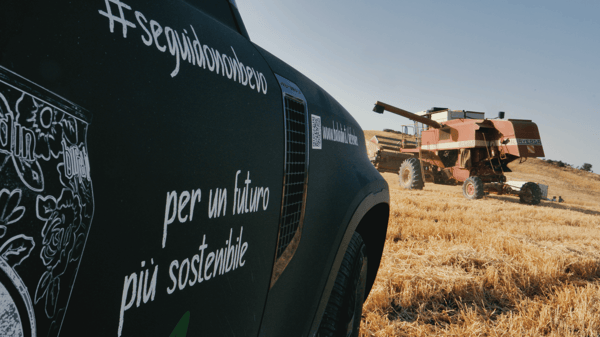 Teo made an exciting journey with Defender Baladin from Piozzo to Basilicata and Puglia at a very important time for the brewery: the reaping of the barley used to produce our craft beer.
Defender Hard Top was presented as an unstoppable vehicle, so we put it to the test on our barley fields, the ones we call "mountain fields".
We crossed them to get close to the combine and follow it during harvest. We had a great time in complete safety and without even realizing much that we were driving on a rather arduous terrain.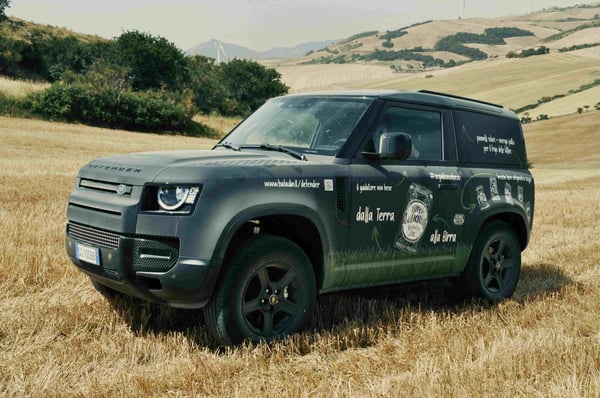 At the end of the day, when the work was done, Teo joined the Tomaiuoli family who were enjoying a well-deserved rest. Sat in the field, in the shadow of the historic wild pear tree, we enjoyed the many delicious dishes prepared by Brigida with the products of their farm. Of course, Teo offered some fresh canned Nazionale, taken from the refrigerators of Defender Baladin.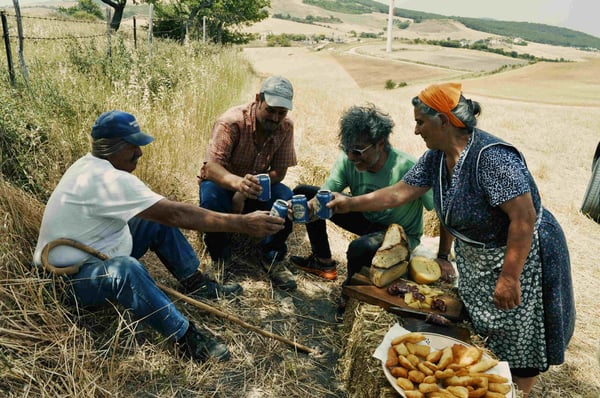 The greatest joy is seeing the satisfaction of the farmers who could drink and enjoy the product of their hard work in the fields.
The journey continues... Stay tuned for more stops. #SeGuidoNonBevo
The Defender Baladin project has been realized thanks to the collaboration of: