The unstoppable innovative vision of Teo Musso has created the Baladin Cocktails. The idea was to offer "Your favorite drink, signed by Baladin". To this end, we have developed a very carefully thought-out project: from the choice of the cocktail recipes to the origin of the ingredients and the use of eco-friendly packaging for a new approach to informal drinking.
The 6 Baladin cocktails revisit 6 classics of mixology, reinterpreting their recipes with innovative ingredients, all sourced from the Baladin production chain. "Twists on classic" with a low alcohol content, made with the unique spirits made with alcohol distilled from our beer. The idea originally came up to give new life to the beer left in our stocks because of the lockdown, but it actually pushed the Baladin philosophy even further in its effort to create a short and controlled supply chain.
Our cocktails are the result of years of testing at our pubs and restaurants, which already serve revisited cocktails made with Baladin beers and soft drinks. We are now offering them with an Easy to Drink approach, so that they can be enjoyed in all situations: sitting at a bar or pub table, or while comfortably sitting on your couch at home. The ideal serving temperature is 6-8 °C.
Three are Beer Cocktails as they are made mainly with 100% Italian beer.
The innovative, eco-friendly packaging makes it very easy to drink them. We have chosen an aluminum can with a 360® End opening system developed by Crown, for which Baladin has exclusive use in Italy. Thanks to this technology, the entire lid can be removed and the can turns into a drinking cup.
Our cocktails are meant to be enjoyed cold, sipping them straight from the can or with ice in a glass.
The Baladin Cocktails: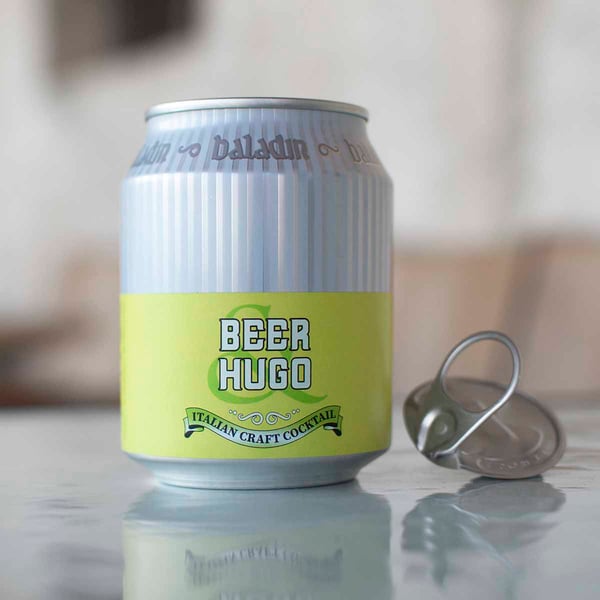 "The most glamorous cocktails around, with even more taste", with Isaac beer, elderflowers and mint.
The scent is full of floral notes that come back in the taste, accompanied by touches of mint and citrus from the beer.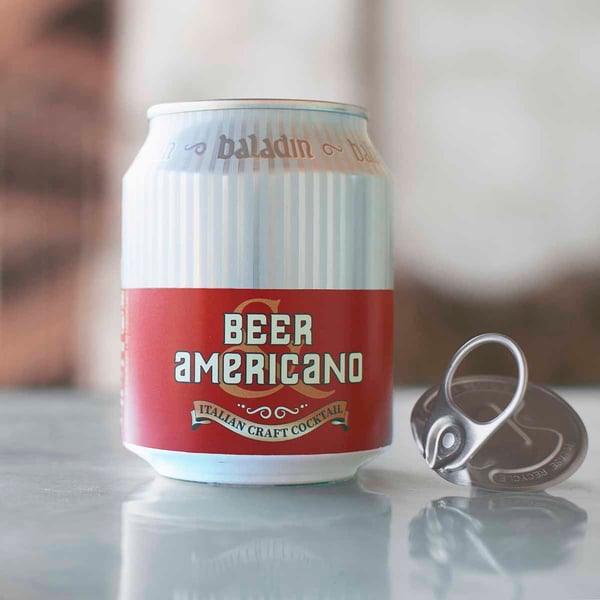 "The aromatic and bitter taste of the ultimate Italian aperitif", made with Baladin 4.8 beer and the Italian bitter called "Nuvolari", produced by our friends at Affini.
It releases spicy scents of vermouth and bitter. The taste is characterized by gentian, mugwort and citrus notes of myrtle-leaf orange, with a bitter hoppy finish.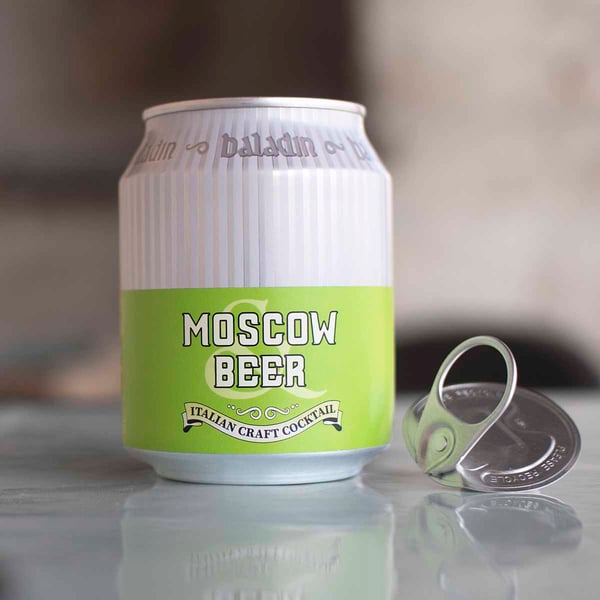 "The legendary delicately hot cocktail, even richer", with Sud di Baladin beer and Ginger Beer Baladin.
The spicy aromas of ginger and citrus released by the beer come back in the mouth, with a gentle note of hops and a fresh and tangy finish.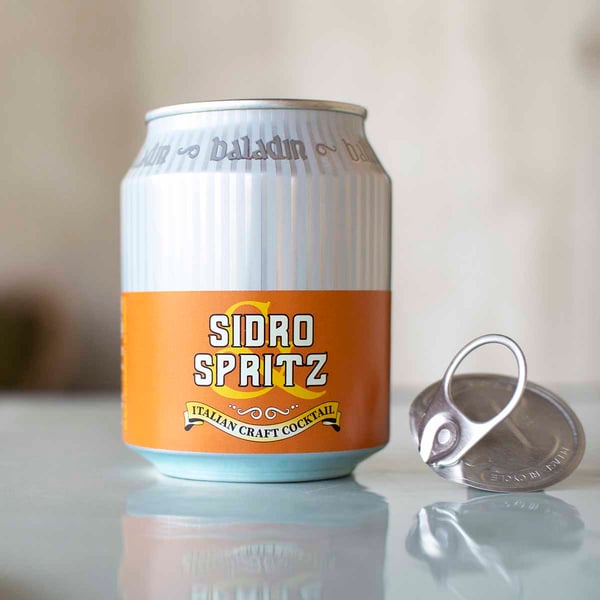 "The most popular Italian cocktail, made with 100% Italian apple cider".
Notes of tangerine, spicy aromas of bitter and fresh hints of apple from Sidro Baladin hit the nose. A beautifully balanced taste of citrus fruit and bitter herbs is complemented by a fragrant green apple finish.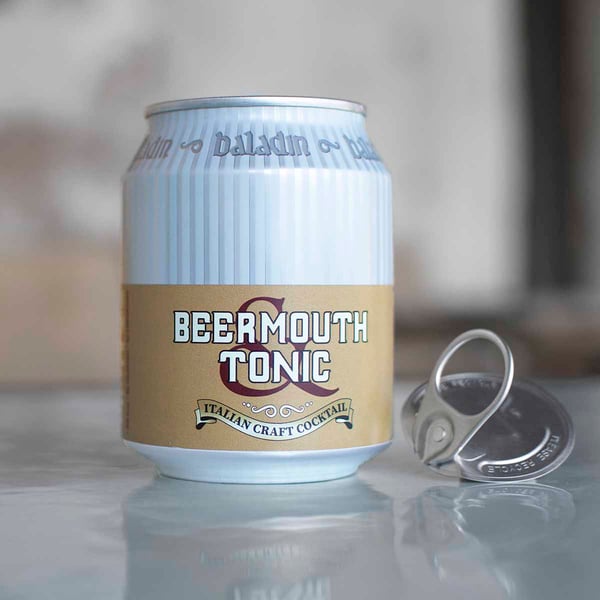 "Beermouth Baladin reinterprets a great classic thanks to the skills of master Dennis Zoppi", with beer vermouth and Tonica al Fieno di Baladin.
It has scents of spices and moderately balsamic notes. In the mouth, gently bitter notes dance with the taste of fresh citrus zest. The finish has a pleasant citrus touch.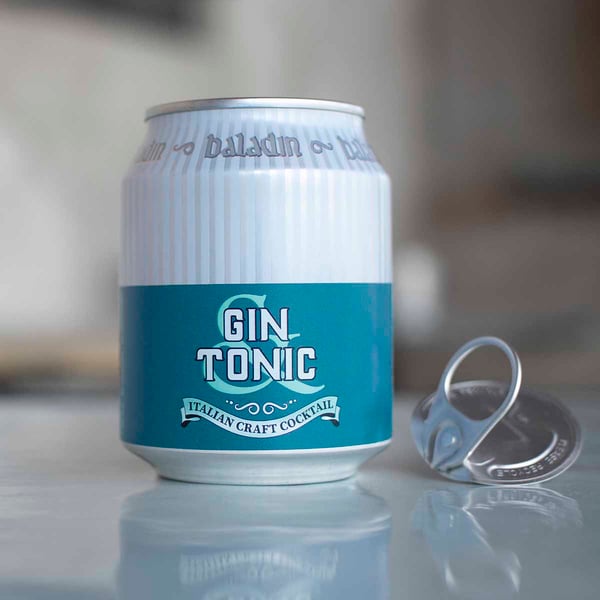 "The most popular mix of the moment, with beer distillate and Italian tonic water", with gin made with alcohol distilled from beer and Tonica Baladin.
The nose is filled with scents of juniper, floral and citrus notes. The taste is clean, bitter and floral with a nice touch of rose and a citrus touch of bergamot.
To recap, our "Italian Craft Cocktails" are:
Inspired by great cocktails
Low in alcohol content
Easy to drink
Made with ingredients from the Baladin supply chain
3 are Beer Cocktails made with 100% Italian craft beer
All the spirits are original and made with alcohol distilled from beer
They can be enjoyed (very cold) straight from the can
Ready to be served in a glass with ice
"Green": the aluminum can can be recycled infinitely and you don't need glasses
We want to excite you with new tastes and scents.