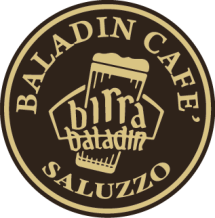 Baladin Cafè Saluzzo
As soon as you go through the doors of Baladin Cafè Saluzzo, you are welcomed by wonderful murals depicting images and atmospheres from the '20s and '30s of the 19th century, mixed with contemporary moods and the world of circus.
A very rich menu of delicious dishes is available for lunch and dinner.
In spring and summer the inner courtyard, inspired by the movie "Casablanca", and the large outdoor space on the square, with its small tables, offer plenty of space to spend the afternoon or evening with friends, sipping a Baladin beer, a cocktail or one of the other great products available at Baladin Cafè Saluzzo.
The atmosphere of this place, with takes inspiration from shady bistros at the harbor, and its charming "Arsenic and Old Lace" mood, straight out of an Agatha Christie novel, are two very good reasons to visit Saluzzo and enjoy the great beer and food at Baladin Cafè, as well as its historical attractions.